Invisible Dog Fencing
Professional Dog Fencing Products and Expertise
Our electric pet fencing systems provide dog owners in Northwest Indiana with both outdoor and indoor solutions. With over 10 years of experience in the industry, we're dedicated to bringing you and your pet the very latest in safe and humane fencing technology.
How Hidden Electric Pet Fencing Works
Indiana Pet Fence takes the guesswork out of your electric pet fence system! With our expertise and experience, combined with Pet Stop®'s user-friendly, customizable product settings and revolutionary training methods, keeping pets safely and humanely contained is what we do best! The underground fencing system is easy to understand and the key ingredients to safely and effectively containing your pet are very simple.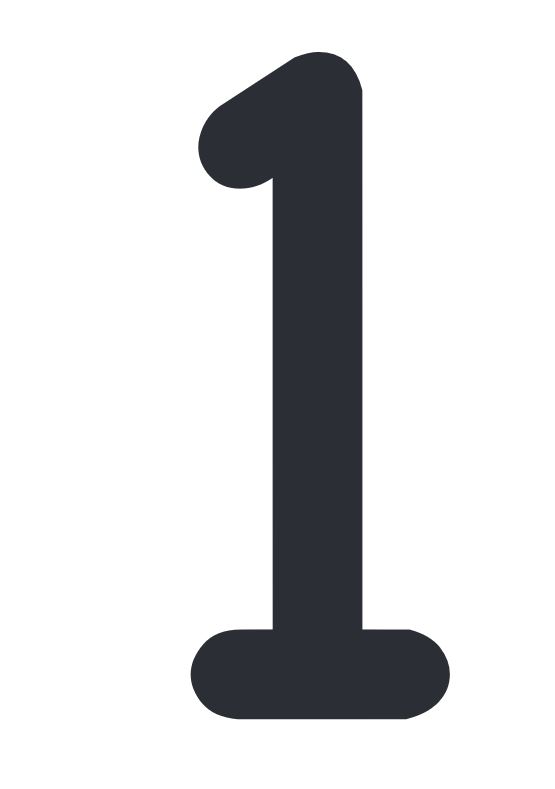 Initial Consultation
First, we'll evaluate your pet fencing needs, and we take EVERYTHING into consideration – your pet's personality, your yard terrain, even your budget. We'll also answer any questions or concerns you may have about the electric pet fence. Since the Pet Stop® fencing system is so customizable, we'll be able to find a pet containment solution for just about everyone, including strictly indoor pets!
---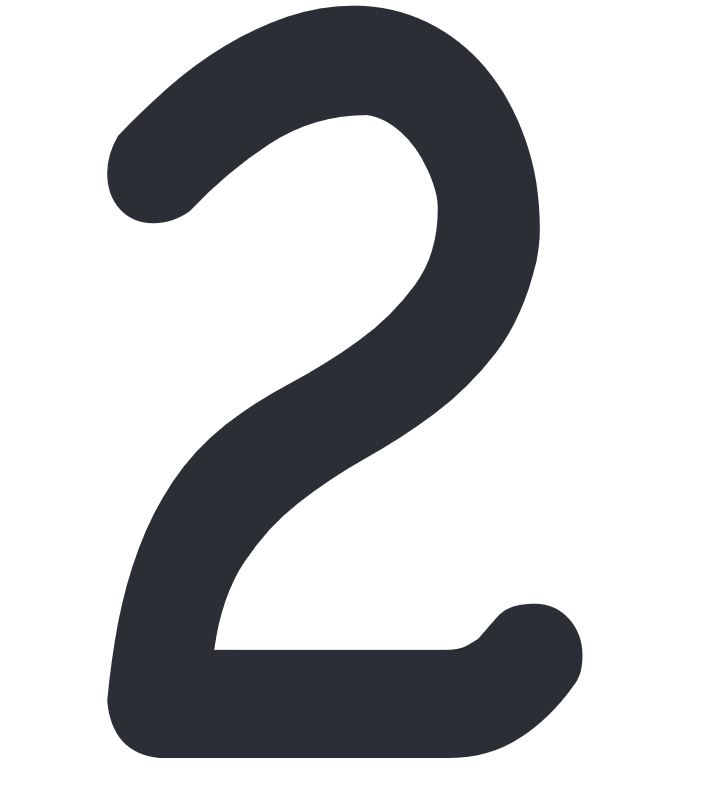 Pet Fence Installation
Once a fence system has been purchased, we'll arrive on the scheduled day and install your new electric pet fence system. We'll bury the boundary wire in the layout you've chosen, we'll install the fence signal transmitter, and we'll provide the initial receiver collar programming for your pet – custom-tailored to best fit your pet's size, breed, and temperament! We'll also provide you with a manual and all the knowledge you'll need to customize the receiver collar settings yourself.
---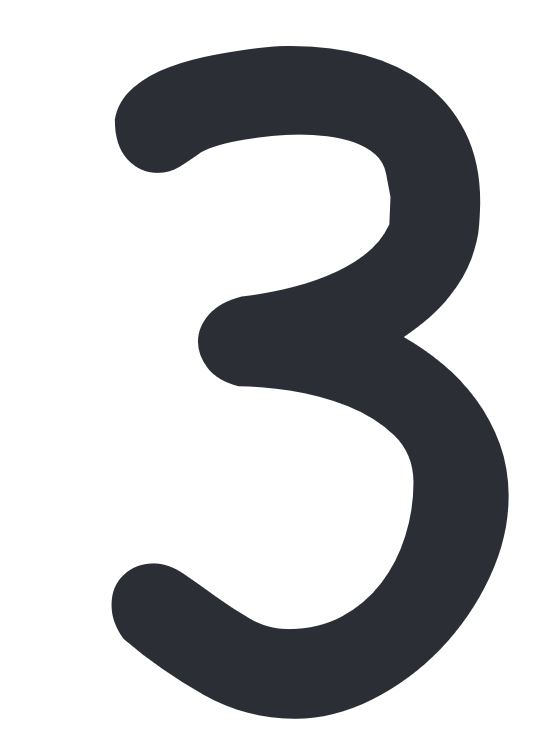 Pet Fence Training
The training is perhaps the most important part of keeping your pet safely contained. Indiana Pet Fence utilizes a revolutionary training technique, GentleSteps™, to help your pet quickly learn their new fence boundaries WITHOUT resorting to painful shocks. Our pet fence experts will provide the initial training, and we'll also teach you how to continue in our footsteps. Follow-up training is critical to maintaining the effectiveness of your fence and if you have any problems, and we're more than happy to drive out and provide additional training.
Our Layouts
Custom-Designed Fence Layouts
We'll custom-design a fence layout to meet your specific needs.
Below are some examples of our most common layouts: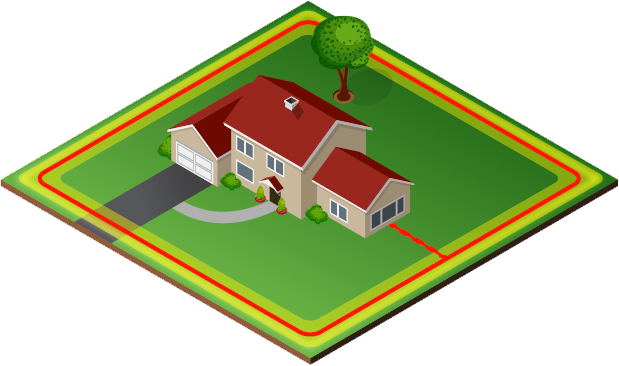 Full Perimeter Loop
Our most common layout installation is a Full Perimeter loop. This layout gives your pet free range to roam your yard but not leave it.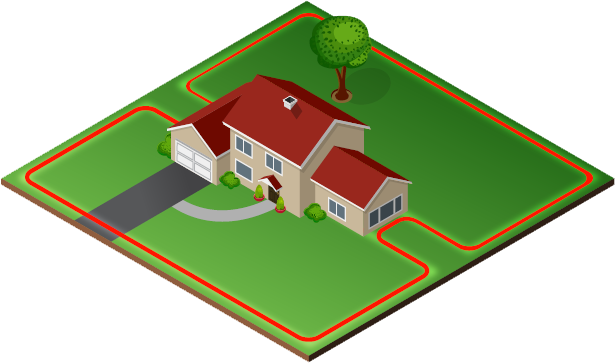 Figure 8 or "Pinch in"
Also common is the Figure 8 layout. It's like the Full Perimeter loop, but with a pinch in the middle. This allows you to contain your dog in either the front yard or the back yard, it's up to you.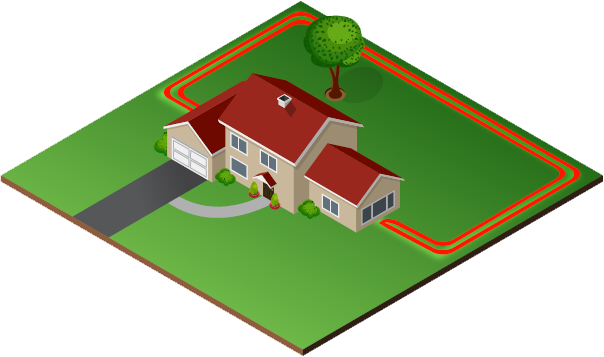 Double loop or Banana Loop
The double Loop layout is used to contain only the front or back yard. It's generally only used when your property's geography won't allow for installation around the whole property.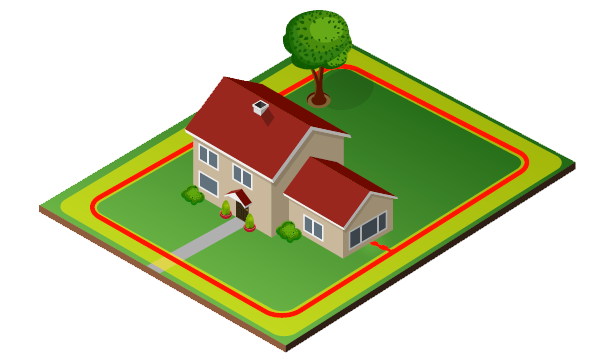 Edge-To-Edge™
Small yards are no problem at all for Pet Stop® technology. Our boundary fences offer settings to create a one-sided signal zone around the perimeter wire in order to maximize the amount of yard your pet can enjoy.
Current Owner Support
If you're an Invisible Fence® owner and you're having trouble with your current system, we can help with troubleshooting and maintenance.
Support
GentleSteps
At Indiana Pet Fence, we use the revolutionary GentleSteps™ training method, a new way to train your pet to the fence without the use of painful, traumatic electric shocks.
Training
Indiana Pet Fence
Whether you're looking for a new fence or are one of our existing customers, we're here to help.
At Indiana Pet Fence, we understand the time demands of the busy family. With a 10-15 minute phone conversation we can give you an exact price. We will deliver a quote document to you with-in 24 hours. If we complete a fence installation with less expense than quoted, we will refund some of that cost. If we are in error on our quote and the fence costs more to install than we quoted, we cover it. The price will not increase
Current Customer?
Send Us A Email